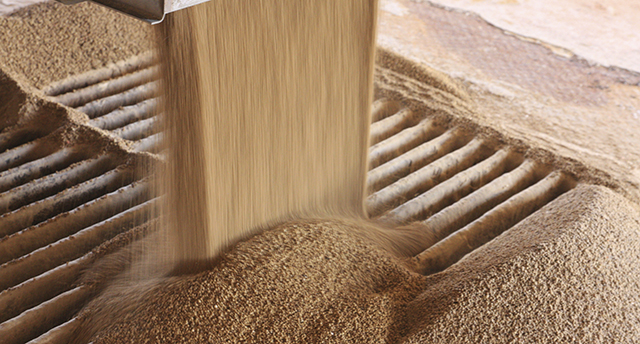 In addition to grain and feed markets, InterSystems, the brand known as a worldwide manufacturer of bulk material handling equipment and industrial sampling systems, is found on a full range of products in support of other industries.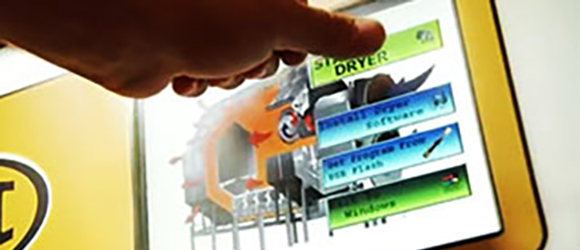 Check this area often for updated manuals, software updates and limited time offers.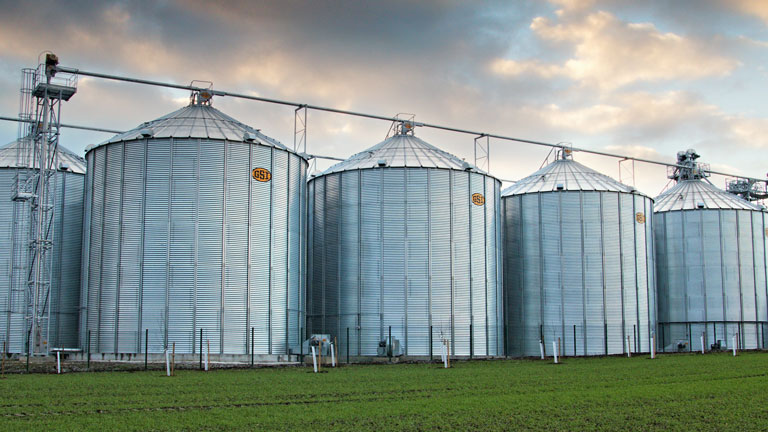 GSI supports agriculture around the globe with the most extensive global manufacturing footprint and dealer network in our industry. We bring our customers local solutions with global expertise.
TopDry
Batch and Autoflow Dryers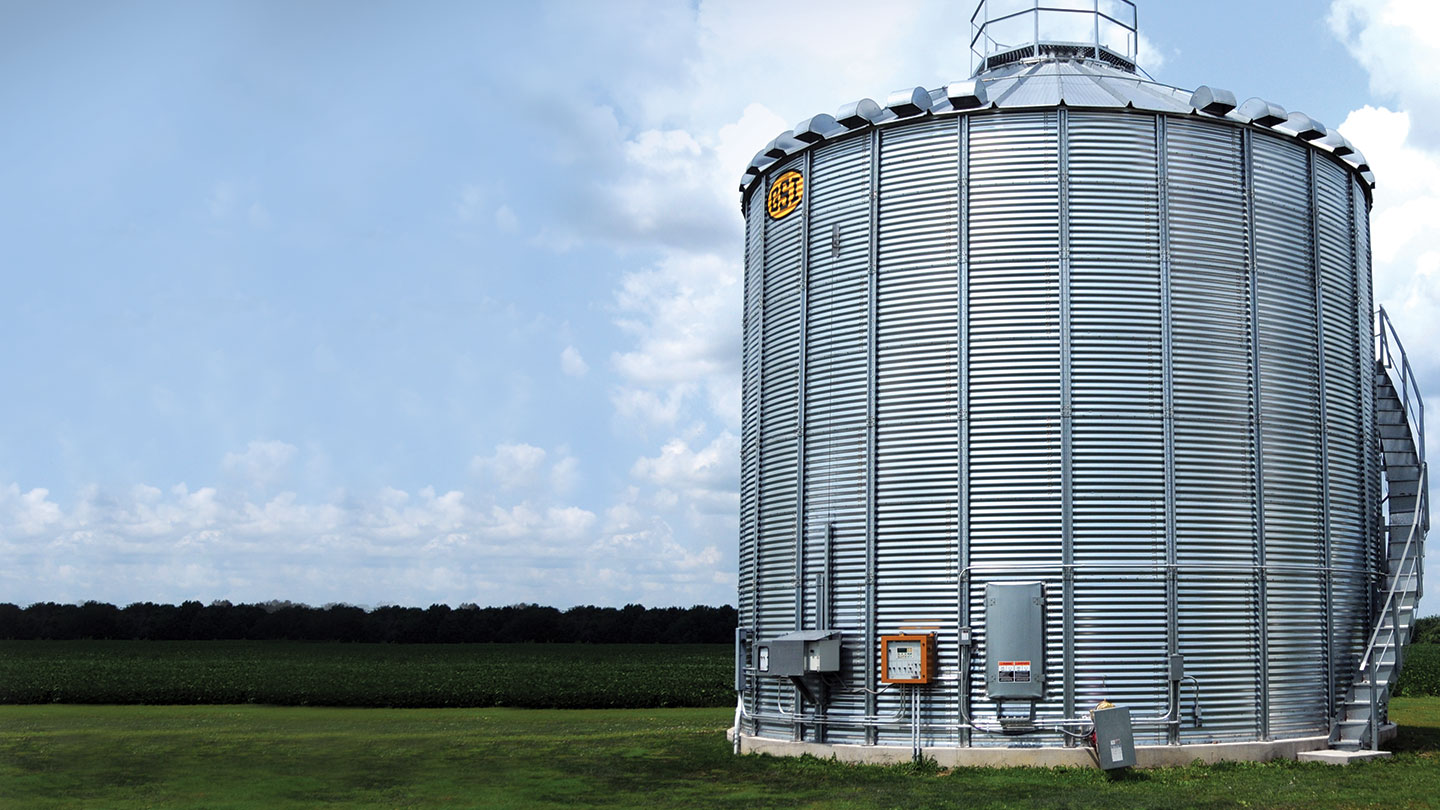 TopDry
Batch and Autoflow Dryers
Highlights
Available in a completely manual batch version and an automatic AutoFlow version.
Drying capacities up to 2,176 BPH dry and cool at 5 pt. removal.
LP or Natural Gas
Native cooling heat and aeration air recovery.
Increased Access to TopDry Settings and Data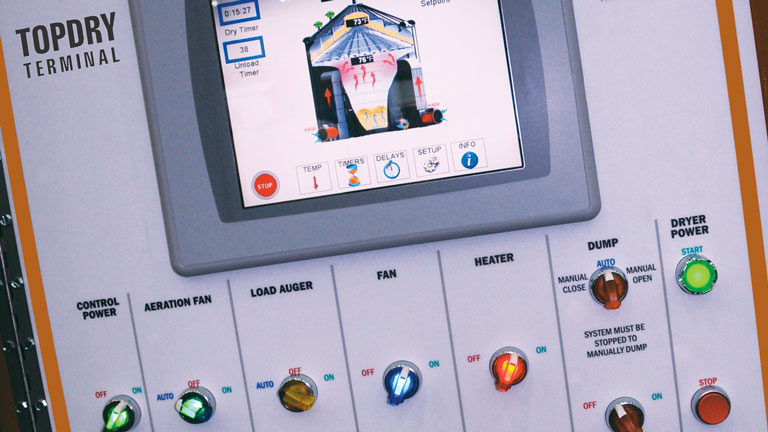 TopDry Terminal
easy-to-read, large color touch-screen display
TopDry Terminal utilizes the same top of the line, Allen Bradley CompactLogix PLC used in Zimmerman Tower Dryers. WatchDog remote monitoring and control is standard for the first time on TopDry with TopDry Terminal (owner supplied internet connection required). The system uses advanced graphics and animation to give a visual representation of the TopDry's operation.

TopDry Terminal is completely automated with full control over fill system, fans, heaters and dump chutes with monitoring and safety equipment in place. It can be controlled by straight-time, grain temperature using four electronic temperature sensors or a combination of both. With the microprocessor-based AutoFlow System, you can control two fans and heaters, two separate load augers and two aeration fans.
TopDry Terminal is the standard control for AutoFlow and AutoBatch TopDrys, and is available as an option on Manual Batch TopDrys.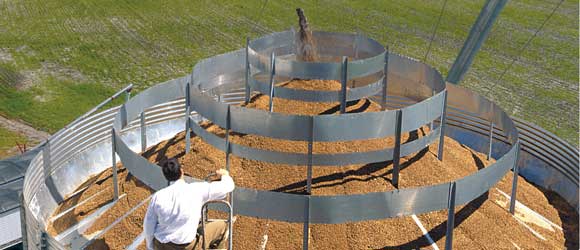 Unique Design
TopDry is built to streamline your operation with easy maintenance and optimization. A shallow layer of grain on a peaked floor just under the roof allows TopDry to achieve airflows similar to Portable Dryers at low static, while simultaneously providing capacities not available in any other bin based dryer. Fan units are located on the ground via ductwork for easy operation and maintenance. All cooling airflow and heat is recovered and recycled into the air and heat from the main fans, increasing capacity and providing the best efficiency possible. No other dryer can dry more efficiently than TopDry.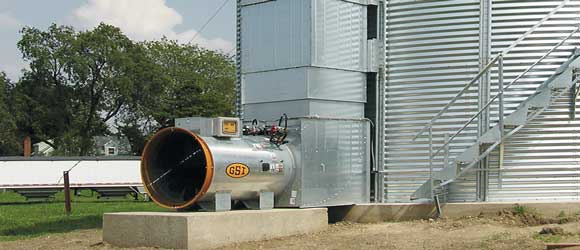 Ductwork
GSI was the first to put the fan units on the ground for easy operation and maintenance, and also ensuring air and heat are completely mixed for even drying and peak efficiency. Fan units can be parallel or perpendicular to the bin to conform to available room and direct low level noise away from the operation area; the lower section automatically adjusts for height and any variation in pad height over the years.​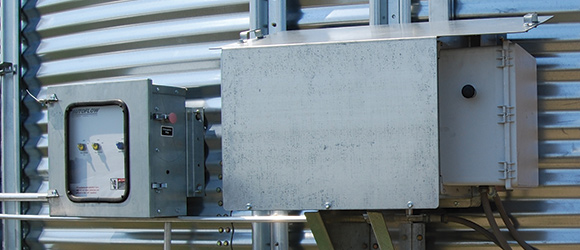 Chute Controller
Our chute controller uses a VFD drive for dependability and durability. By using a heavy chain we eliminate bending damage to the cable in this key area. This along with large diameter pulleys at other bend points results in a cable life of over 20 years.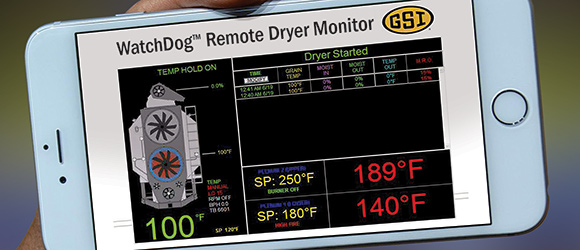 Optional
WatchDog
WatchDog allows you to monitor and control your dryer from anywhere. Monitor and adjust moisture and temperature from your phone, tablet, or computer with ease.​