With his previous grain storage system, Iowa farmer Jay Fritz dealt with harvest bottlenecks and spent too much time transporting his grain to a local elevator. A recent expansion program solved both issues, providing improved efficiency and grain marketing flexibility.
Fritz Farms, located in Mason City, is a third-generation operation producing corn and soybeans. Prior to the expansion, the grain system consisted of two old grain dryers and three smaller storage bins. In 2019, local GSI dealer Ag Advantage Systems installed a double-stacked portable dryer with a capacity of 1,500 to 2,200 bushels per hour.
Additions in 2021 included two GSI bins — a 12,000-bushel hopper wet storage bin with three times the capacity of an older wet bin and an 83,000-bushel dry storage bin, raising the total storage capacity to 213,000 bushels. "My operation hasn't expanded," Fritz said. "I was just hauling more grain to town or storing some in a neighbor's bin. Now it's just so convenient to have everything in one centralized location."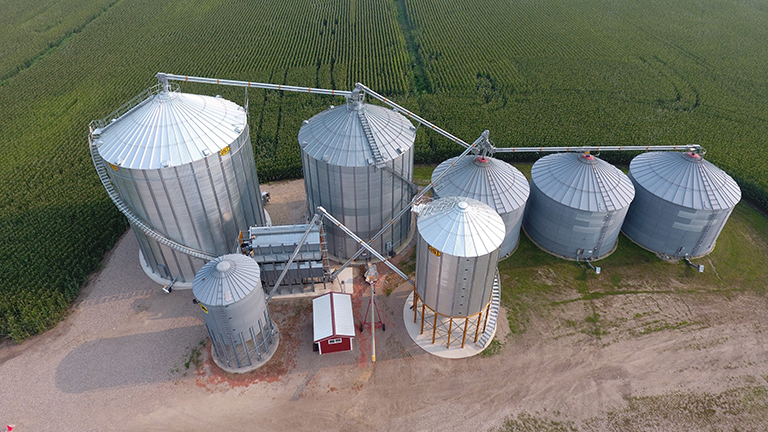 The new wet storage bin enables Fritz to run the combine for longer periods of time, to dry more corn on farm rather than paying for it offsite and to run his new dryer for longer periods of time, if needed. "It also enables Jay to work around the weather and bank more bushels that can be dried when he can't be harvesting," noted Adam Abels, a designer with Ag Advantage Systems.
"The expansion has worked great," Fritz said. "My hired hand and I used to fill the wet bin with corn and be done harvesting by 1 or 2 in the afternoon, and then what do you do the rest of the day? Now we don't have to haul as much dry grain and wait in line during harvest to make room for more corn that needs to be dried."
With more on-farm storage capacity, Fritz also has more flexibility to determine when to sell his grain and to whom. "Prices were good this harvest, but fall is usually the worst time to sell grain," he said. "Grain marketing is really hard, but now I have more flexibility to spread that out over the rest of the year to carry capture in the market and sell at higher prices."
Having a new, modern dryer compared to the two older dryers is another major benefit. Because of automated controls, Fritz no longer has to manually set controls and continually monitor the dryer. "With our older dryers, you had to be there a lot. My dad used to sleep there. With our new dryer, I can set or change controls on my mobile phone while I'm on the combine, and if there's a problem, the dryer shuts down and I receive a notification."
Timely Decision
Abels noted that Fritz also benefited by taking advantage of early order discounts in November and December 2020, avoiding supply chain issues and higher steel prices related to the pandemic. "We got all of his equipment in before we needed it and were able to get the expansion completed earlier in the build season because we had his material on hand and didn't have to worry about it if anything was back-ordered. It was on hand and ready when we needed it."
"Adam did an awesome job getting things done," Fritz said.
Fritz also appreciates the layout design of the new bins, which will accommodate future expansion as needed. Grain is moved through the system with GSI VersaLoop conveyors, which offer a versatile, modular design to handle capacities up to 10,000 bushels per hour and help accommodate future growth.
"Any time you build a bin site, you need to think forward," Fritz said. "I learned a lot with this project."