Are you ready to put in some grain bins, but you aren't sure what to do first? The more information you have on the front end, the easier it will be to work with your dealer to put together a system that works for your operation. So before you sit down with a grain bin dealer, here are seven things for you to consider.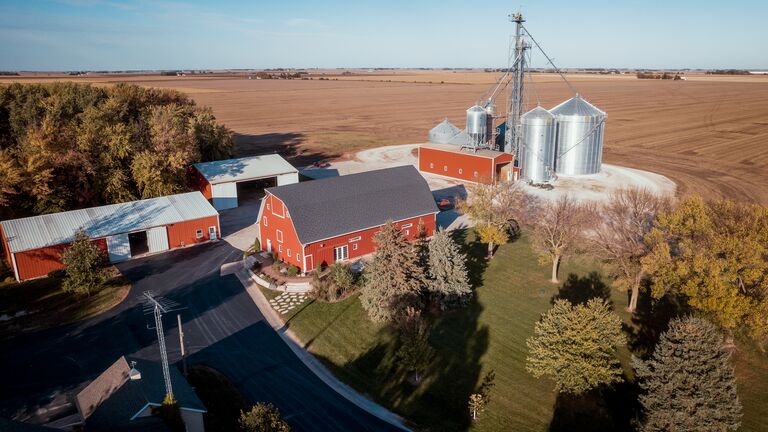 Capacity
Some dealers might ask how tall you want your bins to be, but the real question is capacity - how many bushels do you need room for? If you grow a few different crops, you may opt to go for a few smaller bins instead of one huge one. It's more cost effective to go tall than it is to go wide.
The Needs of Your System
Do you need storage, or do you need a dryer? Will you fill from an auger, bucket elevator or conveyor? Even if you aren't quite ready to install all the pieces now, it's a good idea to start thinking about how the overall plan should work to fit your needs.
The Power Situation
Electricity availability is a key factor. If at all possible, you want your system to have access to three-phase power. Single phase may work for a small project, but three-phase will support your system, cost less to operate and give you opportunities to expand in the future. If you plan to install a dryer, access to natural gas is also important.
Height Restrictions
Are you close to town or near an airport? These areas may have height specifications for construction. Check your local regulations to see if these apply to you. If you're in a seismic area, your bins may have some additional structural and installation needs as well.
Highways
Are you building close to a highway? For the purposes of getting grain where it needs to go, when you need it to get there, you want to be as close to a highway as possible. Ensure you'll have access to your farms and meet minimal weight restrictions for full semis and other large equipment that will be driving up to your storage facility.
Future Expansion
Making a plan for future growth is a lot easier than trying to retro-fit a smaller plan. Put your bins in a spot where you'll have room to grow when you need it. Your dealer can help you work through that plan, but having an idea of where you're planning to go next can save you a lot of headache.
When You Need Them
Historically, winter has been the best time to buy, mainly because that's when bin manufacturing plants have started to slow down. Dealers may offer a discount during this timeframe, and may be able to have it delivered during the winter as well. The key is - don't wait until you need the bin to get it ordered. Think ahead to what your crop year is going to look like and start making plans as soon as possible to ensure you have the storage you need, when you need it.
Communicating with Your Grain Bin Dealer
The key to any build is an open line of communication. The more both parties know from the start, the more questions that are asked, the happier everyone is with the end result. So what should you make sure you know before you sign on the dotted line for a new grain bin system? Here are two important decisions that you will want to be clear on.
Payment Schedule
One of the crucial things to discuss with your grain bin dealer is how, and when, the payments will work. Maybe you'll have a down payment and then a payment once the bins are delivered. Or there could be a payment once concrete is poured and another payment made once the whole project is completed. No one likes surprise bills. So make the money an upfront, clear part of the conversation with a dealer.
Just like your retailer, your equipment dealer or your seed rep, having a good working relationship with your grain bin dealer is important to ensure that you are getting the most from your grain handling system. The more your dealer knows about your specific needs, the more they can help your operation continue to grow and be more efficient with grain storage and handling in the years to come.
Why GSI?
GSI brings the highest quality steel, engineering and support to the marketplace with every product. Our dealers are well educated on our offerings, our quoting system is top-notch, and we have an internal support team that is truly there for our clients and our dealers. And our partnership with AGCO brings us a long way too; we're always bringing new products, new equipment and new ideas to farmers. We're always thinking about the future -- of our technology and your operation.