The primary benefit of on-farm storage is usually the flexibility that comes from marketing grain when buyers want it. On-farm storage increases cash grain marketing opportunities beyond what is available at harvest. That flexibility allows farmers to earn market carry, as well as additional buyers and increased demand that may not exist at harvest.
But the benefits of an on-farm system aren't just in how farmers market their grain. On-farm storage systems can have a positive financial impact throughout the harvest season.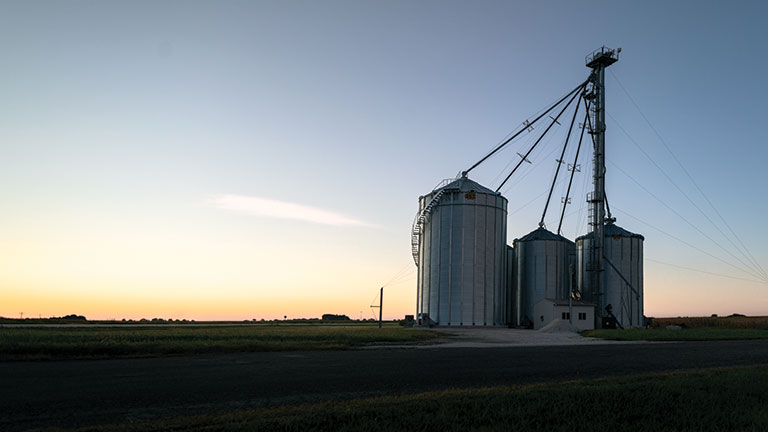 Five Ways to Get Real-World Value from On-Farm Grain Storage
When farmers invest in grain storage, they start to minimize inefficiencies around harvest and hauling grain, as well as personnel and equipment.
Here are four examples:
Trucking Inefficiencies
One of the most significant harvest-time inefficiencies is waiting for trucks to unload and get back to the field. An on-farm storage and receiving system allows farmers to keep trucks moving and eliminate unnecessary expense related to extra trucks, labor and fuel.
Reducing Labor Costs
Setting up and moving transport augers has been part of the harvest ritual for years. Investing in a receiving system using bucket elevators or chain loops can take cost and frustration out of the harvest process. A well-designed grain receiving system not only eliminates the time and frustration associated with moving augers. Bucket elevators and chain loops can increase your receiving speed while maintaining grain quality through the receiving and storage process. Not to mention you won't need that "auger tractor" sitting in shed.
Fewer Equipment Inefficiencies
Combines are one of the priciest, most high-tech pieces of equipment on the farm today. In order to operate as efficiently as possible, the combine needs to run from sun-up to sundown as many days as possible and keeping grain away from the combine is often the limiting factor. Having sufficient on-farm storage, drying and receiving allows producers to right size their combine fleet, widen the harvest window and eliminate extra labor and machinery expense.
Safer Employees
Remember the days of getting started early and working late into the night to get the crop in? Farmers only get once chance each year to make a crop, so they do what they have to. A properly sized grain drying and handling system can take some of the stress out of the harvest season. Less rushing and more rest means fewer mistakes, happier employees and a safer operation.
Happier Farm Families
Fewer sandwiches in a combine seat, more dinners around the table at home. Need we say more? In an industry that is so well recognized for its connection to family, any opportunity to reduce stress, increase health and give farmers and their families more time together during harvest is welcomed.
Making the Right Decision for Your Operation
Today's farmers have many challenges as they play their role in providing the world with a safe and affordable food supply. Having an on-farm grain system presents a plethora of opportunities to strengthen your operation for the future. With financial incentives and practical solutions to personnel and equipment bottlenecks, a grain storage system may be the next right step for your farm.