Plan Now for 2022 Grain System Projects
ASSUMPTION, Ill. (March, 2021) — With record demand this season for new or expanded grain storage systems, dealers are already busy taking customer orders for projects in 2022. Gary Woodruff, GSI district manager, reminds farmers it's essential to carefully plan their grain systems before rushing to order new equipment.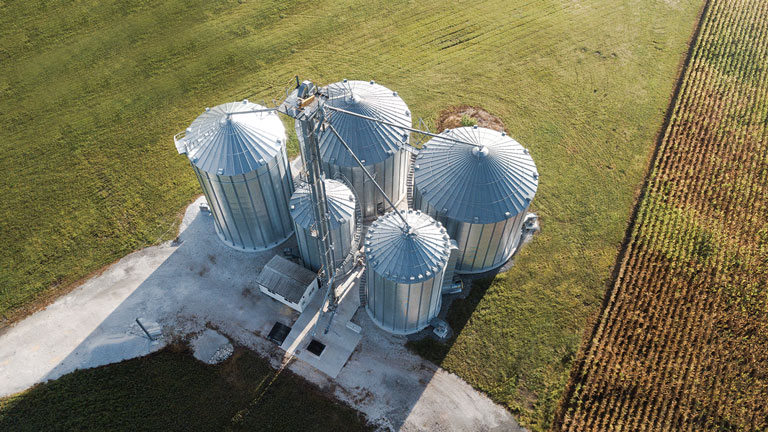 "Because of the extremely tight bin supply industrywide, many farmers are looking at ordering equipment now to install after harvest or even into 2022," Woodruff said. "But those considering these investments need to keep in mind there are still basic decisions and goals to be met in their grain system design that should not be overlooked, even though installation is many months away. Don't put the cart in front of the horse."
Here are some of the key issues he says farmers need to discuss with dealers in the planning process:
Future growth – Think beyond immediate needs by leaving space for additional bins in the future. Have a well-thought out plan that factors in growth and future technology changes. Plan a layout that supports expansion in an organized way without wasting space or money.
Drying capacity – if your wet storage bin was full before the end of each day the past harvest, it may be time to increase drying capacity. With higher yields, as the total number of bushels increases, plan on adding a higher capacity dryer or an additional unit.
Grain handling – Consider creating a traffic pattern for separate grain dumping and loading stations to increase efficiency. Being able to load and unload grain simultaneously will save time and improve harvest efficiency. Make sure unload capacity is adequate to not be a bottleneck today or into the future as the farm and yields grow.
Location – If installing a grain system on a new site, it should ideally be situated on a state highway that allows you to haul grain year-round without road restrictions. Access to natural gas will keep drying costs to a minimum, but LP gas can be used anywhere and good roads will ease its delivery. The location should also provide access to 3-phase electric power, which allows operation of much larger machines and motors. For smaller systems, single phase power may be sufficient, but more power will be needed as the system expands.
"Start now, work with your dealer and make sure you get a plan in place so your grain system will meet your expectations," Woodruff says. "A poorly designed on-farm grain storage system may increase labor, reduce efficiency and create safety issues that a well-planned system avoids."
For additional information, farmers can also visit www.grainsystems.com.
About GSI
GSI® is a brand within AGCO Grain & Protein, a key business unit of AGCO (NYSE:AGCO). AGCO Grain & Protein is represented by five umbrella brands — Cimbria®, GSI®, Automated Production® (AP), Cumberland® and Tecno®. Each brand provides complete solutions in the markets they serve. For more information, visit www.grainsystems.com. For company news, information and events, please follow us on Twitter: @GSI_Grain.