GSI Recommends Getting Head Start on Grain System Maintenance this Summer
ASSUMPTION, Ill. (Feb. 2021) — Many farmers wait until late summer to conduct annual maintenance of their grain systems. However, GSI district manager Gary Woodruff recommends moving up that timetable this season, due to longer than usual lead times to obtain critical parts, especially for dryers and grain handling systems.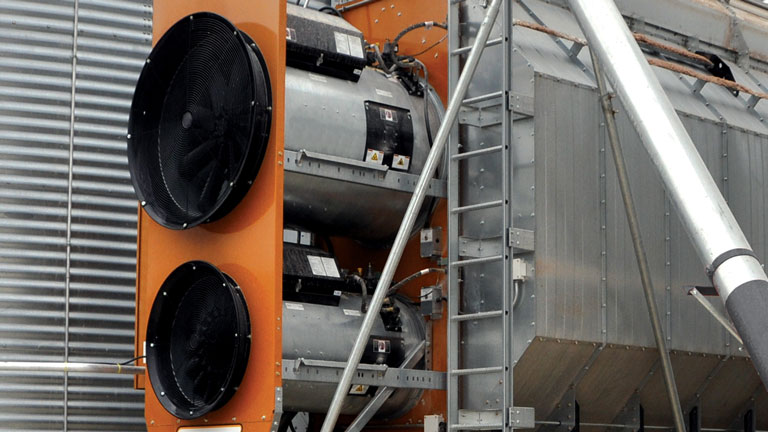 "Due to the incredibly strong demand for grain systems across the industry this year, it is not unusual to experience longer delivery times, sometimes up to six weeks or longer, for parts," Woodruff said. "Waiting until late summer to discover you need to replace an essential part could put a timely harvest in jeopardy."
Woodruff recommends that farmers begin inspecting their grain equipment now so that they can be confident their grain system will be fully functional this fall when the grain starts coming in from the field. A partial list includes:
For dryers, check control boards, safety sensors, gas controls and bearings.
For material handling equipment, make sure that chain conveyors, buckets and paddles, belting, motors and grain bin augers are in good working order, or order replacement parts if needed.
Here are several tips to help inspect and prepare your grain bins, dryer and fans to make sure they are ready for harvest:
Before performing any work or service, turn off and disconnect, lockout and tag, or block off all mechanical, electrical, hydraulic and pneumatic equipment.
Sweep and clean the interior of the bin.
Spray and treat the exterior / interior of the bin to minimize insect infestations and mold.
Inspect and clean all roof vents to ensure free flow of aeration or ventilation air.
Inspect for and repair leaks, rusting, or other deterioration of the bin structure.
Inspect / repair bottom ring seal as needed to keep water from entering the bottom of the bin.
Check aeration fan, transition, and entrance door for damage and proper seal.
Check dryer bin gas supply lines, burner, and vaporizer and burner gas train for leaks and make sure all are clean and free of debris, particularly the burner gun or exit.
Inspect the entrance door and ensure it's mechanically sound, shuts and seals tightly.
Always wear respiratory equipment as well as fall protection when working around any grain bin.
While farmers can handle many basic maintenance steps themselves, Woodruff noted that installing new parts in many cases can require dealer technical support. "Therefore, getting a head start on maintenance and scheduling dealer service can help ensure your grain system is ready for harvest and avoid costly downtime," he said.
About GSI
GSI® is a brand within AGCO Grain & Protein, a key business unit of AGCO (NYSE:AGCO). AGCO Grain & Protein is represented by five umbrella brands — Cimbria®, GSI®, Automated Production® (AP), Cumberland® and Tecno®. Each brand provides complete solutions in the markets they serve. For more information, visit www.grainsystems.com. For company news, information and events, please follow us on Twitter: @GSI_Grain.