Give Your Grain System a Post-Harvest Performance Review
ASSUMPTION, Ill. (August, 2020) — Many people dread going through an annual performance review. But for farmers, evaluating their grain system following harvest is a sound strategy to make any necessary upgrades for the following season.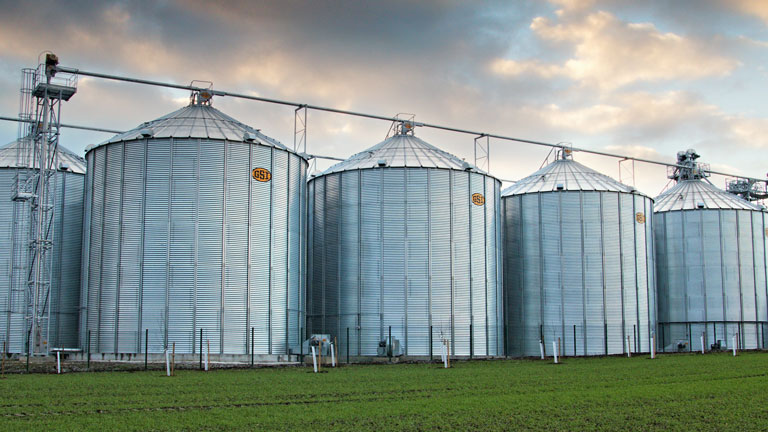 "That's especially true this fall, considering the big yields experienced in many parts of the country," said Gary Woodruff, GSI district manager and grain management expert. "Having an efficient, properly-sized grain system is key to protecting grain quality and maximizing profitability."
Woodruff suggests that farmers grade their systems based on these criteria:
Storage space – Determine if existing bin capacity is sufficient or if you need to improve your grain storage position. "Many farmers not only lacked enough on-farm storage this harvest, but also found that their local elevators were full," he said. This meant they were forced to find temporary storage, or rely on unconventional storage solutions which can sacrifice grain quality." Woodruff said if farmers want to add storage, they should contact their dealers as soon as possible because many are getting booked quickly.
Drying capacity – Unlike last year, when wet conditions plagued much of the Corn Belt, that has not been as serious an issue in 2020. "Grain drying capacity fared better in most areas this season," Woodruff said. "However, if your wet storage bin was full before the end of each day during harvest, it may be time to increase drying capacity."
Grain handling – High yields put additional stress on grain receiving equipment. "Yields continue to grow every year," Woodruff noted. "If your existing dump pit and bucket elevator can't keep up with the inflow of grain, the result will be a bottleneck to your harvest. Increasing the capacity of your grain handling equipment will improve harvest speed and efficiency."
Safety – Post-harvest is also a good time to consider possible safety enhancements while it is fresh in your mind. "This can include installing roof stairs or peak platforms on bins, checking to see if bin safety cages are secure, and making sure all safety shields on motor drives and dump points are in good condition," Woodruff said.
For more information, Woodruff encourages farmers to contact their grain system dealer or consult ag university or other industry resources.
About GSI
GSI® is a brand within AGCO Grain & Protein, a key business unit of AGCO (NYSE:AGCO). AGCO Grain & Protein is represented by five umbrella brands — Cimbria®, GSI®, Automated Production® (AP), Cumberland® and Tecno®. Each brand provides complete solutions in the markets they serve. For more information, visit www.grainsystems.com. For company news, information and events, please follow us on Twitter: @GSI_Grain.